Reed's Recommendations
As you take steps toward the next phase of life, the following
resources and links on this page will get you started.
What's Next Midlife Planner
Download the What's Next Midlife Planner - a free 10 page document - an invaluable resource for individuals and couples and only available through the What's Next website. After countless hours of research and collaboration, I developed the Midlife Planner based on the work of Paula Marie Usrey, of Boomer Best U. The Planner is designed to help users think through the many aspects of life as they pass their 50s in support of a full and meaningful life. Uncover what's really important through thoughtful questions and short self-assessments.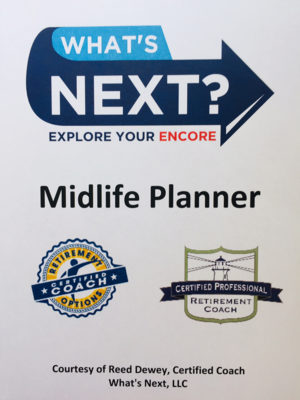 Helpful Free Resources
Below are some of Reed's favorite resources on midlife transitions and retirement.
This 79 page publication from the nonprofit Coming of Age provides a terrific introduction to exploring what's next. The titles of a few chapters:
What now? Where do I go from here?
The meaning of work in our lives.
How friendships change.
Building new communities.
Mintzer is a nationally recognized expert in planning for the second half of life. She offers this very useful free guide covering 10 key areas related to retirement/midlife issues with tons of suggested articles and books. She is also the author of the excellent book, The Couples Retirement Puzzle.
Don't let the traditional layout turn you off! This publication highlights important issues to attend to during different stages of life. Find links to resources that can help you make a life plan. The five main areas covered:
health and health care
legal and financial matters
work life and retirement
psychological issues
social roles and resources.
A Few Good Books
Purposeful

Retirement

by Hyrum Smith:
How to Bring Happiness and Meaning to your Life
Through humor, personal stories, quotes and wisdom, Smith provides the midlife reader with much to consider. The book covers such areas as adjusting to post-career, importance of relationships, health and self care, and service to others to provide meaning for a fulfilling life. The book is a quick but insightful read which I found helpful in setting the context for my own next chapter.
Retirement Reinvention by Robin Ryan:
Make Your Next Act Your Best Act
From starting a dream business to entering the nonprofit sector to volunteering, this thought-provoking and practical guide will help you create a plan and pivot toward a future as vital as it is truly rewarding. This book is full of useful client stories and practical advice to jump start one's retirement exploration.
Ready To Retire? by Dee Cascio:
Successful retirement planning to make the best of the rest of your life.
Dee Cascio's book is a hidden gem and one of the better books I've read on how to move towards a meaningful and fulfilling "second half." It's a well organized, practical book covering all the areas you'd expect written as if you're talking to a good friend. Casio shares some her own experiences and life challenges navigating mid-life, which I found refreshing and honest. I especially like the "Dig Deeper" questions at the end of each chapter, along with great links to solid retirement resources.
Provides a solid overview of the key aspects of life after a main career.  Work sheets include the Retirement Profile and vision process that looks at 24 things to do in retirement.  The book balances the practical aspects of retirement with how to reframe life in the later years as a time of opportunity and enrichment.
Get Started and Schedule Your Appointment Now
Call to set up your appointment now and get your free consultation from Reed regarding midlife, retirement, and your future.